I don't believe I have ever shared a recipe with you all and today that is about to change! This is one of my favorite summer time recipes that is perfect for this time of year with all the corn out in stores and farmer's markets. It's pretty easy to make and a delicious healthy soup perfect for any get together. In fact, I think it would be great for a Labor Day party!
Serves 6 if you make a salad and serve it with bread. Jacob and I eat it and there is a small amount of leftovers. I would probably double it if I wanted to make it for a crowd.
Ingredients:
5 ears sweet white corn, shucked
1/2 cup milk
1 tbl unsalted butter
1 tbl olive oil
1 large yellow onion, chopped
2 celery stalks (I didn't have any so this time I left it out)
2 garlic cloves, minced
1 large Yukon Gold potato (I used 2 Idaho potatoes to make up for not using celery but I'm not fussy about cooking and ingredients)
4 cups vegetable broth
1 tsp salt, more to taste
1/2 tsp black pepper, more to taste
16 fresh basil leaves (I do have to say that fresh basil is so much better than dried in this recipe...it's worth buying fresh)
Directions:
1. Start with 5 ears of corn (although I used 6 b/c it was 6 for $2 at the local farmer's market) and what could be wrong with more corn in a corn soup. Nothing, I tell you.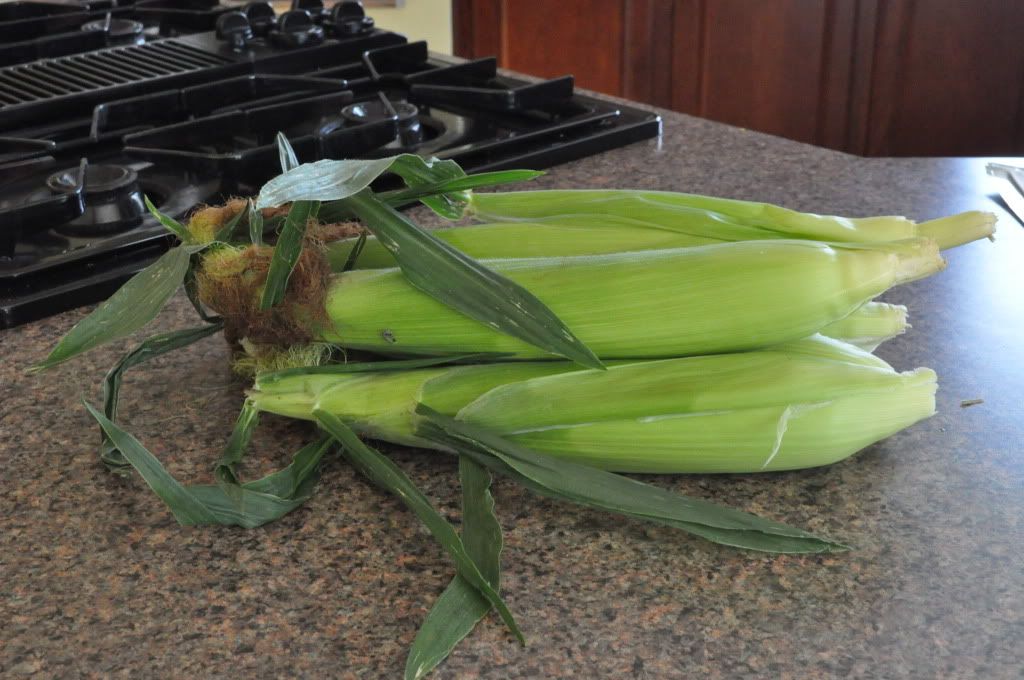 2. Here is a trick I just learned: to make shucking the corn (husking?!....I might be showing my redneck roots with the work shucking) easier-- pop it in the microwave for 30 seconds to 1 min and the little strings come off easier. True story. Try it!
3. Cut the corn kernels off the cob
4. Add corn and milk to saucepan and bring to a low boil over medium heat. Reduce the heat and simmer for 5 minutes then remove from the heat and set aside.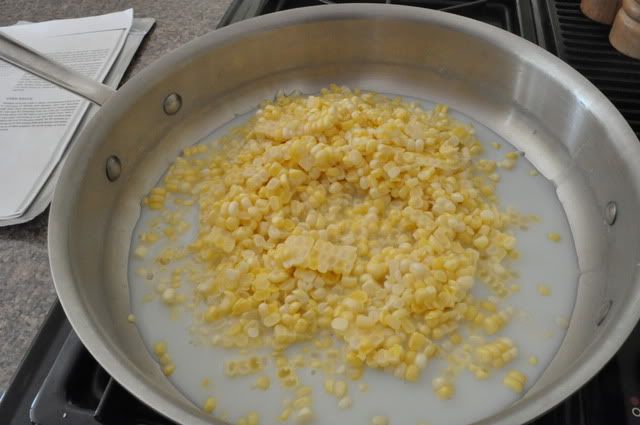 5. In a separate large saucepan, melt butter and olive oil over medium heat. Add the onion and reduce the heat to low and cook until the onion is soft and translucent (10 min). Add celery and cook until soft (4-5 min). Stir in garlic and saute stirring constantly for 1 minute, be careful not to brown the garlic.
6. Add the potato(s), 4 cups of broth, salt and pepper and bring to a low boil over medium-high heat. Reduce heat and simmer for 15-20 minutes or until the potatoes are soft. Stir in the corn-milk mixture and half of the chopped basil.
7. Ladle half of the soup into a food processor or blender after it cools slightly. Process the soup slightly (about 10 seconds or until it's smooth) then pour it back into the pot.
I serve my soup with a great wine and a french baguette and possibly a summery salad
Sprinkle the rest of the basil on top before serving and enjoy!
And just keeping it real this is really how we eat our meals. A flower or fruit centerpiece?! No. We prefer a baby.....a stinkin' cute baby at that! (Oh, and a kitty on a chair too)
Hope you make and enjoy the soup as much as we do!